As a real estate investor, you've probably wondered "What happens if housing markets collapse?"
It's one of the biggest fears and questions we hear from our passive income students. One answer is that it's uncommon for real estate values to go down – it happens in bubbles, or major recessions, or when a local economy collapses (e.g. a steel town after the steel mill closes).
But it doesn't happen often.
It's even rarer for rents to go down. Even during the Great Recession, as housing values plummeted by 30% here, 25% there, rents actually increased.
So, what's happening now, in America's largest cities?
Rents Down in Top-Tier Cities
In seven of the ten most expensive cities in America, rents are down.
Of the remaining three cities, two are up by only a fraction of a percent.
Here are the rent numbers, both year-over-year and compared to the market peak, provided by Zumper's September rent report: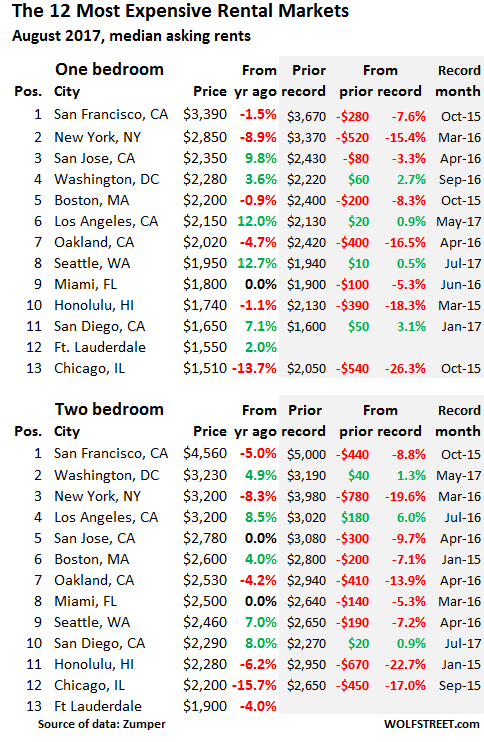 In New York City, rent for a two-bedroom apartment is down nearly 20% from its peak. In Honolulu, rents are down by 23%!
And Chicago's rents have fallen so far that America's third largest city is no longer on the top ten list (more on Chicago later).
Yet home prices have continued to rise in these cities. New York City home values are up 9.3% year-over-year. Honolulu values are up 4.8%.
This divergence of rents and home prices spells  B-A-D  N-E-W-S for rental investors. But what about elsewhere in the country, outside these pricey mega-cities?
Rents Rising in Small- & Mid-Tier Markets
Outside of the ten most expensive markets, the news is brighter for landlords and rental investors.
Even in other major cities, rents are mostly rising. Here are month-over-month and year-over-year rents for the 11th-25th most expensive cities:
Among the 26th-50th ranked cities by rent, almost all have seen rents continue to rise.
Rents nationwide are up 3.2% year-over-year, and home values are up 6.8%. Hardly the kinds of numbers to give economists nightmares.
Why Are Rents Falling in the Largest Cities?
Here's a simple answer to start with: they were previously in a rent bubble.
Take the Bay Area – from 2010-2015, San Jose rents shot up by a dizzying 75% (from an average of $1,600 to $2,800). San Francisco saw a similarly meteoric rise of 68%, from $1,900 to $3,200.
Did incomes rise by 70%? Did 70% more people move in?
No, of course not. This is textbook bubble territory, and now that bubble's burst.
(article continues below)
Free Mini-Course: Passive Income from Rentals
And consider how top-heavy rents are on that list above. Even on the top-ten list, the most expensive city (San Francisco) costs twice as much as the tenth most expensive city (Honolulu or San Diego, depending on which list you're looking at).
Meanwhile, Honolulu and San Diego are twice as expensive as the 25th most expensive city (Madison)!
Who wants to spend $4,560/month on a two-bedroom apartment, when they could live in another major city for $1,500/month? No, really: a two-bedroom in Atlanta averages $1,690; in Baltimore, $1,500; in Philadelphia, $1,600; in Pittsburgh, $1,330. None of those are backwaters; they each have an NFL team for Pete's sake! (Whoever the eff Pete is.)
Millennials, who for a decade drove the re-urbanization trend, have been fleeing these most expensive cities in favor of mid-tier cities.
And they're not just moving to less expensive cities – they're also moving out to the suburbs.
The Second Wave of Suburbanization
Millennials are the largest generation in America, make up the largest cohort of homebuyers, and the largest cohort of urban renters.
But last year, nearly half of millennial homebuyers bought in the suburbs. Another 20% or so bought in rural areas, leaving roughly a third who bought in cities.
"Okay, but what about urban renters? They're not running off to buy suburban colonials with white picket fences, right?"
Actually, the majority of them want to. No really – surveys among millennials have found that even urban renters plan to move out to the 'burbs.
"Why? I thought all they cared about were overpriced coffee shops and craft beer?"
It turns out that, shocker, millennials care about the exact same things that other young parents do, when they get married and have kids. Taxes. Cost of living. Crime rates. School quality.
Which is exactly why they're moving to the suburbs. On average, it costs $9,000 more to raise a child in the city than it does in the suburbs. And that's just cost of living.
With the sudden spike in violent crime rates in major cities over the last two years, it's no wonder so many millennials are packing up for smaller cities and suburban America.
Case Study: Chicago
The nation's third-largest city watched as its population fell by 9,000 people last year. Meanwhile, developers built over 26,000 new multifamily rental units last year.
Which doesn't include single-family homes. Or dilapidated buildings renovated and put back on the rental market. Or homes and condos built to be sold, rather than rented.
And crime? It has not been a proud year for Chi-town, with homicides up 11.4%.
Read: supply is way up, even while demand disappears.
Is it any wonder rents for one-bedroom apartments are down 26%?
Like so many other large cities, Chicago has been hard at work digging its own fiscal grave for decades. Pension debt alone is an unpayable $33.8 billion. That doesn't help their bond ratings any, which are rated as junk status by Moody's.
What does Chicago do? They go on a taxing spree, raising every tax they can think of to try to boost revenues. No, really – the average Chicago family is now paying $1,692 more per year in taxes than they did just five short years ago.
Do you blame millennials for taking their young children and moving somewhere cheaper and safer, that offers better public schools?
I don't.
What Does All This Mean for Rental Investors?
None of this means the sky is falling, or that rental properties are suddenly bad investments. It just means you should be paying attention.
Is the population in your area rising or falling? What are the demographics of the people moving in? Younger adults tend to drive the most economic gain, since they're more likely to start businesses, they spend more money on consumption, and they have children (who come with all kinds of expenses to boost the local economy).
Are local crime rates going up or down? What about taxes – are they rising or falling? Are the local public schools performing better or worse than they did five years ago?
It's possible to make money in declining markets, but it's a lot easier to make money in improving markets.
Fortunately, nearly all markets in the U.S. are improving. If you live in one of the few top-tier cities where rents are declining, now is a good time to consider expanding your radius.
No one says you have to invest a mile from home. You have plenty of appreciating markets to choose from, so start thinking analytically, and exploring new markets is as good a reason as any to take a family vacation!
What to Do Next
First, answer the questions above about your own market!
If you enjoyed this article, sign up for our Passive Income Newsletter. Every week we'll help you earn more while working less.
What to Read Next
I want to know more about…